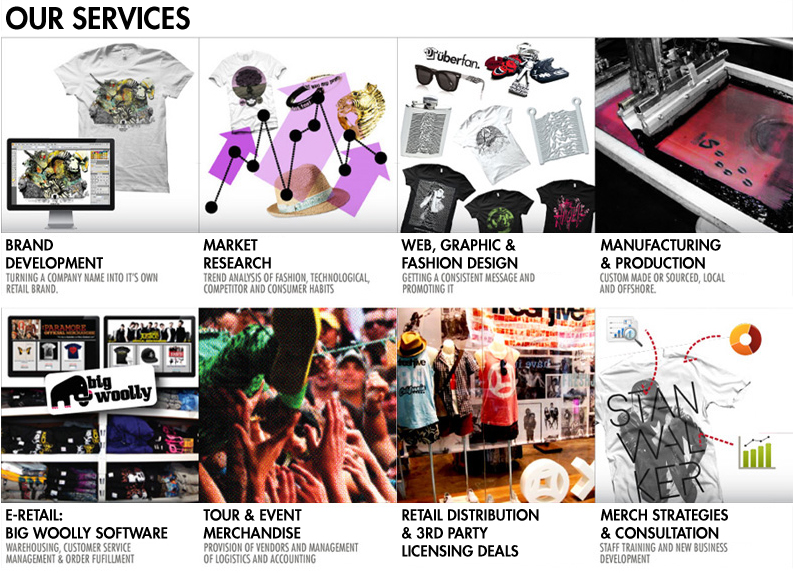 Mammoth Merchandise is a 'Merchandise Agency'. A product and services based company delivering complete solutions across physical and digital landscapes. Our services include:
• Strategy, development, operation management and reporting on custom solutions.
• Brand development: Developing a company name into its own retail brand.
• Market knowledge & research: Analysis of industry (e.g. fashion or music), technology, competitors, consumer habits and other key elements.
• Creative Design: in-house design expertise across merchandise, digital or physical graphical design, all delivering a consistent message and promoting it.
• Manufacturing and production: custom made or sourced solutions, local and offshore.
• E-retail: Based on the Big Woolly platform it includes: warehousing, customer service management, order fulfilment, reporting and P&L. (later social media integration)
• Tour & Event Management: provision of merchandise vendors, product development, marketing strategy (& execution), management of logistics and complete accounting and reporting.
• Distribution Agreements: Negotiation and agreements for Retail distribution & 3rd Party licensing deals.
• Merchandise Reporting System: centralised accounting for all solutions, including tour, online and retail. Auditable reporting in near real-time that is transparent and accessible for our clients to monitor our work.
• Merchandise strategies and Consultation: staff training and new business development.